Voyage of the Dogs (Hardcover)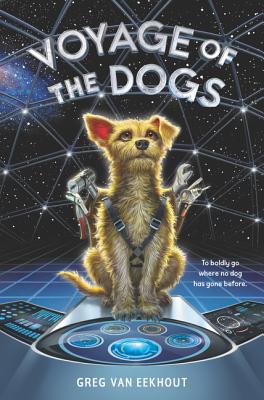 Staff Reviews
---
This is the voyage of the spaceship Laika. Its current mission: to travel to a new world, to survive without human companions and opposable thumbs, to boldly go where no dog has gone before!
When the four members of the canine crew of the Laika wake from hibernation to find themselves abandoned by their human counterparts, they know it's up to them to complete the mission. And good dogs always complete their missions. The Secret Life of Dogs meets Up meets Lost in Space, or perhaps the canine version of The Martian. Discover what it's like to be a dog, how dogs came to exist in the first place, and the bond dogs share with their human companions. Read about heroic historical canines. And best of all, learn about space travel from the perspective of a future bred-to-be-really-smart dog. A really good dog. A Barkonaut! A howling good read for the middle grader in your life.
Woofbarkwoofbark  woofwoofwoof woofwoofwoof  barkwoofbarkbark!
— Guest Reviewer Patrick Heffernan
Description
---
This edge-of-your-seat action-packed story is Homeward Bound—set in space!
SOS. Ship damaged. Human crew missing.
We are the dogs. We are alone.
Lopside is a Barkonaut—a specially trained dog who assists human astronauts on missions in space. He and the crew aboard the spaceship Laika are en route to set up an outpost on a distant planet.
When the mission takes a disastrous turn, the Barkonauts on board suddenly find themselves completely alone on their severely damaged ship.
Survival seems impossible. But these dogs are Barkonauts—and Barkonauts always complete their mission.
About the Author
---
Greg van Eekhout lives in San Diego, California, with his astronomy/physics professor wife and two dogs. He's worked as an educational software developer, ice-cream scooper, part-time college instructor, and telemarketer. Being a writer is the only job he's ever actually liked. You can find more about Greg at his website: www.writingandsnacks.com.
Praise For…
---
"Fast-moving, funny, and suspenseful. A deep-space furry adventure with heart and humor."
— Kirkus Reviews

Who's a good boy? Lopside and the canine crew of the starship Laika! This dogs in space romp will make you sit up and beg for more.
— Alan Gratz, New York Times bestselling author of Refugee

"A crackling page-turner about courage and wonder, full of warmth and heart and characters who jump off the page. It's my favorite book of the year."
— Rae Carson, New York Times bestselling author of the Girl of Fire & Thorns series

"Dogs in space? Who knew we needed that? But Greg van Eekhout proves we did! Voyage of the Dogs is a delight, and kids are going to love it."
— Spencer Quinn, New York Times bestselling author of Woof

Dog-lovers and space enthusiasts will gravitate to Van Eekhout's riveting book.
— Booklist