Wonder Valley: A Novel (Hardcover)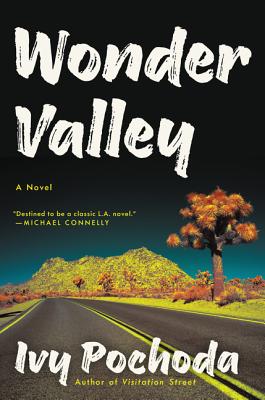 Staff Reviews
---
Just as in her first novel, Visitation Street, Pochoda has created stories within a larger story, blending and connecting the plots and characters, finalizing in an incredible tale. Set in Southern California from the Pacific Ocean to the slums of Los Angeles to the beauty of the Mojave Desert, this masterpiece of character development includes a menagerie of humankind. Britt is a runaway with a dark secret and Tony is an unhappy lawyer looking for meaning in his boring existence. Ren is just out of juvenile hall searching for his mom, who seems to have abandoned him. Owen and James are discontented teenage twins living in a desert community under the thumb of their father, a self-acclaimed healer of his "disciples." Blake is a lifelong drifter trying to stay above the law and hiding from a violent past. Only this talented author could spin this mix of human condition to present another resounding literary success.
— From
Bunny's Books
Description
---
NPR Best Book of 2017
Los Angeles Times Best Fiction Pick
Refinery29 Best Book of the Year
BOLO Books Top Read of 2017
"Destined to be a classic L.A. novel."—Michael Connelly
When a teen runs away from his father's mysterious commune, he sets in motion a domino effect that will connect six characters desperate for hope and love, set across the sun-bleached canvas of Los Angeles.
From the acclaimed author of Visitation Street, a visionary portrait of contemporary Los Angeles in all its facets, from the Mojave Desert to the Pacific, from the 110 to Skid Row.
During a typically crowded morning commute, a naked runner is dodging between the stalled cars.  The strange sight makes the local news and captures the imaginations of a stunning cast of misfits and lost souls.
There's Ren, just out of juvie, who travels to LA in search of his mother. There's Owen and James, teenage twins who live in a desert commune, where their father, a self-proclaimed healer, holds a powerful sway over his disciples. There's Britt, who shows up at the commune harboring a dark secret. There's Tony, a bored and unhappy lawyer who is inspired by the runner. And there's Blake, a drifter hiding in the desert, doing his best to fight off his most violent instincts.  Their lives will all intertwine and come crashing together in a shocking way, one that could only happen in this enchanting, dangerous city.
Wonder Valley is a swirling mix of angst, violence, heartache, and yearning—a masterpiece by a writer on the rise.
Praise For…
---
"Incandescent… Pochoda keeps you guessing while bringing these lost souls wonderfully, intensely alive."

"A dizzying, kaleidoscopic thriller that refuses to let readers look away from the dark side of Southern California. . . . Impossible to put down. . . . It's the memorable characters and beautiful prose that make the novel so successful. . . . Unexpected and pitch-perfect."

"Audacious. . . . Each character is realized with vivid empathy. . . . A richly Californian novel, drenched in enough sunlight to illuminate the harshest of truths."

"Enthralling. . . . A compassionate look at the displaced that treats each with respect and humanity."

"Pochoda's steady hand and sharp eye keep all of her characters moving swiftly and gracefully through the variegated L.A. landscape."

"Pochoda is a masterful storyteller. . . . [She's] come up with a harmonious narrative that showcases the human condition, full of ecstasy, angst, rage, and beauty."

"Pochoda is a master. . . . It's not a far stretch to consider Pochoda to be in company of James Ellroy, Michael Connelly and T. Jefferson Parker. . . . It wouldn't be a big surprise to find Wonder Valley on the short list for several awards."

"Evoked by Pochoda in shimmering detail. . . . Absorbing, finely detailed, nasty California noir."

"Pochoda has written a novel alive with empathy for the dispossessed and detailed description of the California landscape."

"Ambitious, absorbing. . . . Pochoda paints southern California with a vibrant brush, rendering an evocative landscape on which her desperate characters seek out redemption and rejuvenation."

"Pochoda takes readers places they don't often see with authenticity and clarity. . . . Vivid and sympathetic."

"Wonder Valley seethes with the vivid, searching idea of southern California. But as the intersecting journeys of hippie acolytes, restless hoods, lost boys and all manner of runaways converge, Pochoda enacts an aching dream of home that will possess and haunt you."

"Wonder Valley is destined to be a classic L.A. novel. From desert scrub to cold blue sea, it carries an eloquent yet hard-edge take on the contradictions of a place so difficult to define. It's impossible to put down."

"A vision of Southern California that is at once panoramic and intimate. . . . This novel paints an unforgettable portrait of people who long, above all else, for community and connection."
Coverage from NPR