The Alice Network: A Novel (Paperback)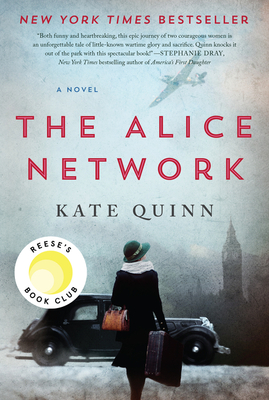 Staff Reviews
---
This story pulled me in from the very beginning. Lies, betrayal, danger, intrigue. All these pieces of the puzzle unite to tell the tale of Eve Gardiner, an English spy during WW1, and Charlie St. Clair, in 1947 a privileged, pregnant and single American desperate to find her cousin, Rose, who went missing during the last days of WW2. Tediously working through various documents Charlie finds Eve's name in connection to her cousin. Eve is bitter, a drunk, and less then receptive to Charlie's request for help in finding Rose.  Persistence eventually pays off and the two set off on a journey that takes them from England to the French countryside. Along the way each woman's story comes to light. The fiction is peppered with real people, places and events; if you are a history buff you may wish to write down some of the names and places to look up afterwards.
— Christine
Description
---
NEW YORK TIMES & USA TODAY BESTSELLER
#1 GLOBE AND MAIL HISTORICAL FICTION BESTSELLER
One of NPR's Best Books of the Year!
One of Bookbub's Biggest Historical Fiction Books of the Year!
Reese Witherspoon Book Club Pick!
The 2017 Girly Book Club Book of the Year!
A Summer Book Pick from Good Housekeeping, Parade, Library Journal, Goodreads, Liz and Lisa, and BookBub
In an enthralling new historical novel from national bestselling author Kate Quinn, two women—a female spy recruited to the real-life Alice Network in France during World War I and an unconventional American socialite searching for her cousin in 1947—are brought together in a mesmerizing story of courage and redemption.
1947. In the chaotic aftermath of World War II, American college girl Charlie St. Clair is pregnant, unmarried, and on the verge of being thrown out of her very proper family. She's also nursing a desperate hope that her beloved cousin Rose, who disappeared in Nazi-occupied France during the war, might still be alive. So when Charlie's parents banish her to Europe to have her "little problem" taken care of, Charlie breaks free and heads to London, determined to find out what happened to the cousin she loves like a sister.
1915. A year into the Great War, Eve Gardiner burns to join the fight against the Germans and unexpectedly gets her chance when she's recruited to work as a spy. Sent into enemy-occupied France, she's trained by the mesmerizing Lili, the "Queen of Spies", who manages a vast network of secret agents right under the enemy's nose.
Thirty years later, haunted by the betrayal that ultimately tore apart the Alice Network, Eve spends her days drunk and secluded in her crumbling London house. Until a young American barges in uttering a name Eve hasn't heard in decades, and launches them both on a mission to find the truth...no matter where it leads.
"Both funny and heartbreaking, this epic journey of two courageous women is an unforgettable tale of little-known wartime glory and sacrifice. Quinn knocks it out of the park with this spectacular book!"—Stephanie Dray, New York Times bestselling author of America's First Daughter
Praise For…
---
"This fast-paced story offers courageous heroines, villains you love to hate, and dramatic life-or-death stakes. A compelling blend of historical fiction, mystery, and women's fiction, Quinn's complex story and engaging characters have something to offer just about everyone." 

"Amazing historical fiction... a must read!"

"...Kate Quinn announces herself as one of the best artists of the genre. The plotting is seamless, the pace breathtaking, and the prose is both vivid and laced with just the right amount of details. Fans of historical fiction, spy fiction and thrilling drama will love every moment..."

"Lovingly crafted and brimming with details, readers are sure to be held in Quinn's grip watching as the characters evolve. Powerful reading you can't put down!"

"Kate Quinn delivers an enthralling tale filled with breath-taking narrative that will make the reader feel as if they're in the back of the roadster, riding along with the raucous Eve and courageous Charlie on their clandestine adventures. Suspenseful and engrossing, THE ALICE NETWORK is a must-read!"

"Kate Quinn strums the chords of every human emotion with two storylines that race over continents and through decades to converge in one explosive ending."

"The Alice Network... perfectly balances a propulsive plot, faultlessly observed period detail, and a cast of characters so vividly drawn that I half expected to blink and see them standing in front of me. This is historical fiction at its best--thrilling, affecting, revelatory."

"Both funny and heartbreaking, this epic journey of two courageous women is an unforgettable tale of little-known wartime glory and sacrifice. Quinn knocks it out of the park with this spectacular book!"

"A powerful story filled with daring and intrigue, The Alice Network will hook readers from the first page and take them on an unforgettable journey."

"Line for line, one of the best books I've read in a long time. Loyal and brave, the women of THE ALICE NETWORK are brilliantly revealed by Kate Quinn's exquisite storytelling and prose. I loved every word! A must read for fans of WWI and WWII fiction."

"In The Alice Network, the lives of two indomitable women intertwine in a plot crackling with suspense. We root for Charlie and Eve, and cheer when they triumph."

"The Alice Network has history, suspense, romance and women kicking butt. I couldn't put it down."