The Last Namsara (Hardcover)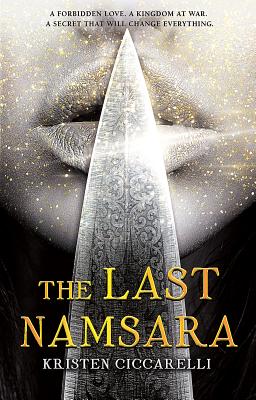 Staff Reviews
---
"Covered in burn scars, feared by her people, and known as the bringer of death, the Iskari, Asha's one purpose in life is to hunt dragons in the hopes of redeeming her corrupted existence. But the hundreds of dragon heads she delivers to her father's throne room can't save the kingdom from the unrest brewing in the streets or the cruelties of the past surfacing to demand retribution. From the world-building to the mix of harsh and gentle characters that come together to weave this tale of growth and change, I was a fan. Ciccarelli's fast-paced writing whisks you into the world and before you know it you are nearing the end, reading slower and slower to postpone it. The Last Namsara shows the power of stories and makes you feel a full range of emotions including hope, the hope that dark futures can be changed and that we can learn and grow into the people we want to be, not the people we are told to be."
— From Constance's Collection
Description
---
Kristen Ciccarelli's debut fantasy explores an intricately woven world of deception, inner darkness, and dragons that fantasy fans won't be able to resist.
In the beginning, there was the Namsara: the child of sky and spirit, who carried love and laughter wherever he went. But where there is light, there must be darkness—and so there was also the Iskari. The child of blood and moonlight. The destroyer. The death-bringer.
These are the legends that Asha, daughter of the king of Firgaard, has grown up learning in hushed whispers, drawn to the forbidden figures of the past. But it isn't until she becomes the fiercest, most feared dragon slayer in the land that she takes on the role of the next Iskari—a lonely destiny that leaves her feeling more like a weapon than a girl.
Asha conquers each dragon and brings its head to the king, but no kill can free her from the shackles that await at home: her betrothal to the cruel commandant, a man who holds the truth about her nature in his palm.
When she's offered the chance to gain her freedom in exchange for the life of the most powerful dragon in Firgaard, she finds that there may be more truth to the ancient stories than she ever could have expected. With the help of a secret friend—a slave boy from her betrothed's household—Asha must shed the layers of her Iskari bondage and open her heart to love, light, and a truth that has been kept from her.
Praise For…
---
"Ciccarelli layers multiple story threads… seamlessly weaving them back as the plot moves along. The third-person narration allows full immersion in the world… The larger political implications of war, rebellion, and the years of rebuilding that must follow are all thoughtfully examined."

"This coming-of-age narrative shows the struggles of learning to trust one's own mind and heart. Fantasy YA readers will love this story of a girl and her dragons. They will be dying to know what happens on their next adventure."