The Queen's Rising (Hardcover)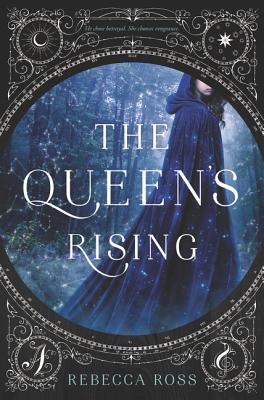 Staff Reviews
---
"I quite simply loved this book. There is a graceful timelessness to it that captures a beautiful world filled with well-imagined characters. There is forbidden romance, revenge, war, and scheming, but all done with such a delicate hand that envelopes you in the story as you fall in love with it. Rebecca Ross is a passion of wit who has woven a remarkable debut that is well worth your time. This is a book I would pick up and reread for its beautiful language; it left me wanting to highlight countless sentences and its characters easily find a home in your heart."
- Constance
— From
Constance's Collection
Description
---
Grave Mercy meets Red Queen in this epic debut fantasy, inspired by Renaissance France, about an outcast who finds herself bound to a disgraced lord and entangled in his plot to overthrow the current king.

Brienna desires only two things: to master her passion and to be chosen by a patron. Growing up in Valenia at the renowned Magnalia House should have prepared her. While some are born with a talent for one of the five passions—art, music, dramatics, wit, and knowledge—Brienna struggled to find hers until she chose knowledge. However, Brienna's greatest fear comes true—she is left without a patron.

Months later, her life takes an unexpected turn when a disgraced lord offers her patronage. Suspicious of his intent, she reluctantly accepts. But there is much more to his story, for there is a dangerous plot to overthrow the king of Maevana—the rival kingdom of Valenia—and restore the rightful queen, and her magic, to the throne. And others are involved—some closer to Brienna than she realizes.
And now, with war brewing, Brienna must choose which side she will remain loyal to: passion or blood.
Praise For…
---
★"Sophisticated plotting is the hallmark of this debut, which deftly navigates complex, treasonous plots and political intrigue. [A] Stunning literary adventure."

"A sprawling girl-powered fantasy. A compelling page-turner. Hand this magical debut to readers who loved Shannon Hale's Princess Academy or Sarah J. Maas's "Throne of Glass" series."