The Great Glowing Coils of the Universe: Welcome to Night Vale Episodes, Volume 2 (Paperback)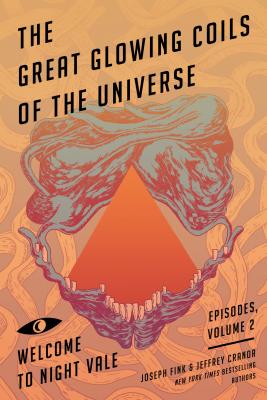 Staff Reviews
---
Mostly Void, Partially Stars and The Great Glowing Coils of the Universe are the first two volumes of the Welcome to Night Vale script books. Whether you're a long time listener, or you've never heard of Night Vale at all, this is the place to start. Each volume contains a year's worth of podcast episodes, illustrations by "our favorite weird artist" Jessica Hayworth, and behind the scenes introductions by the extraordinary creators Joseph Fink and Jeffrey Cranor. Night Vale is a quiet desert community where conspiracy theories are always true, and all us residents can do is tune in to the Community Radio and hope for the best. In these volumes, you'll learn about the forbidden dog park, Old Woman Josie and the angels, a foreboding glowing cloud (ALL HAIL), and a budding romance between our subversive radio host and that new scientist with his perfect hair.
-Gary
— From
Gary's Picks!
Description
---
From the authors of the New York Times bestselling novel Welcome to Night Vale and the creators of the #1 international podcast of the same name, comes a collection of episodes from Season Two of their hit podcast, featuring a foreword by the authors, behind-the-scenes commentary, and original illustrations.
In June of 2012, the creators of Welcome to Night Vale began airing twice-weekly podcasts, hoping to be heard by anyone outside their close circles. By the anniversary show a year later, the fanbase had exploded, vaulting the podcast into the #1 spot on iTunes. Since then, its popularity has grown by epic proportions, hitting more than 100 million downloads, and Night Vale has expanded to a successful live multi-cast international touring stage show and a New York Times bestselling novel. Now the first two seasons are available as books, offering an entertaining reading experience and a valuable reference guide to past episodes.
In The Great Glowing Coils of the Universe we witness a totalitarian takeover of Night Vale that threatens to forever change the town and everyone living in it.
The Great Glowing Coils of the Universe features a foreword by co-writer Jeffrey Cranor, behind-the-scenes commentary and guest introductions by performers from the podcast and notable fans, including Cecil Baldwin (Cecil), Mara Wilson (The Faceless Old Woman), Hal Lublin (Steve Carlsberg) among others. Also included is the full script from the Welcome to Night Vale live show, The Debate. Beautiful illustrations by series artist Jessica Hayworth accompany each episode.
The Great Glowing Coils of the Universe is an absolute must-have whether you're a fan of the podcast or discovering for the first time the wonderful world of Night Vale.
Praise For…
---
"Night Vale's charm comes from the matter-of-factness with which it occupies the intersection between small-town slice-of-life and deep weirdness."

"Like "A Prairie Home Companion" with LSD in its drinking water, this addictive, deeply weird podcast is for anyone who likes his or her quasi-radio listening with a surrealist tilt."

"Hypnotic and darkly funny, Welcome To Night Vale belongs to a particular strain of American gothic that encompasses The Twilight Zone, Stephen King and Twin Peaks, with a bit of Tremors thrown in."

"Brilliant, hilarious, and wondrously strange. I'm packing up and moving to Night Vale!"