Heartstone (Paperback)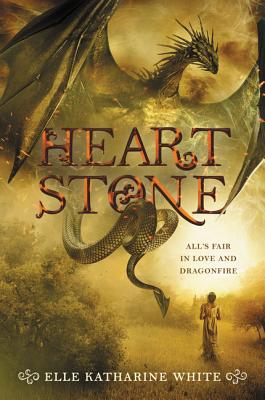 Staff Reviews
---
"Heartstone retells the Pride and Prejudice story that we all love, but in a fantasy setting with knights, talking dragons, and evil creatures trying to destroy our heroine's home town! The author does remain true to the original story in many ways, but she has created a thoroughly unique and captivating world filled with fresh characters that pull you into the book for a truly enjoyable read. The female lead is a healer opposed to violence, and her Mr. Darcy is a knight who is rather good at killing things. Let the personality clashes begin! 
While this is a fun retelling, it delves into darker, grittier themes like loss and mourning. The dialogue and action also keep the book at a nice pace that pull you in and keep the pages turning. There are even some pretty epic battle scenes at the end. If you are looking for a fun read, then look no further. Who doesn't love a good spunky heroine showing the world what's what?! And don't forget about the talking dragons!"
Description
---
A debut historical fantasy that recasts Jane Austen's beloved Pride & Prejudice in an imaginative world of wyverns, dragons, and the warriors who fight alongside them against the monsters that threaten the kingdom: gryphons, direwolves, lamias, banshees, and lindworms.
They say a Rider in possession of a good blade must be in want of a monster to slay—and Merybourne Manor has plenty of monsters.
Passionate, headstrong Aliza Bentaine knows this all too well; she's already lost one sister to the invading gryphons. So when Lord Merybourne hires a band of Riders to hunt down the horde, Aliza is relieved her home will soon be safe again.
Her relief is short-lived. With the arrival of the haughty and handsome dragonrider, Alastair Daired, Aliza expects a battle; what she doesn't expect is a romantic clash of wills, pitting words and wit against the pride of an ancient house. Nor does she anticipate the mystery that follows them from Merybourne Manor, its roots running deep as the foundations of the kingdom itself, where something old and dreadful slumbers . . . something far more sinister than gryphons.
It's a war Aliza is ill-prepared to wage, on a battlefield she's never known before: one spanning kingdoms, class lines, and the curious nature of her own heart.
Elle Katharine White infuses elements of Austen's beloved novel with her own brand of magic, crafting a modern epic fantasy that conjures a familiar yet wondrously unique new world.
Praise For…
---
"Calling all fans of dragons and Jane Austen! While White stays faithful to most of the classic story's plot elements, she add hers own twists and turns as Aliza Bentaine's world grows ever more dangerous. Definitely an author to watch!"