Inkmistress (Hardcover)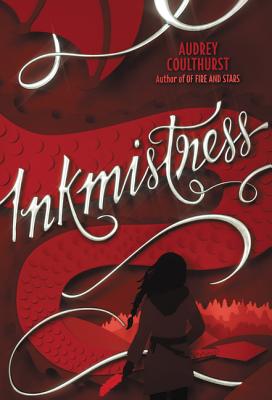 Staff Reviews
---
Inkmistress is just your standard "demigoddess with the power to alter reality by expressing how she'd like to see the world in her blood accidently catalysts her girlfriend's transformation into a dragon, setting off deadly consequences for the inhabitants of their country fairy tale." Asra, who has been raised in very sheltered circumstances by the local healer, must not only deal with trying to rein in Ina's quest for vengeance, but also question her own mythological heritage, determine whether a group of assassins are allies or adversaries, and muddle through everyday interactions with other beings in a far more concentrated form than she has previously experienced. Recommended for fantasy readers who like their magical creatures interspersed with plenty of kissing.
— From
Nifty Novels and More from Maryelizabeth
Description
---
A sweeping, action-packed, and romantic fantasy full of dangerous magic and dark choices, perfect for fans of Tamora Pierce and Kristin Cashore—set in the same world as Of Fire and Stars.
Asra is a demigod with a dangerous gift: the ability to dictate the future by writing with her blood. To keep her power secret, she leads a quiet life as a healer on a remote mountain, content to help the people in her care and spend time with Ina, the mortal girl she loves.
But Asra's peaceful life is upended when bandits threaten Ina's village and the king does nothing to help. Desperate to protect her people, Ina begs Asra for assistance in finding her manifest—the animal she'll be able to change into as her rite of passage to adulthood. Asra uses her blood magic to help Ina, but her spell goes horribly wrong and the bandits destroy the village, killing Ina's family.
Unaware that Asra is at fault, Ina swears revenge on the king and takes a savage dragon as her manifest. To stop her, Asra must embark on a journey across the kingdom, becoming a player in lethal games of power among assassins, gods, and even the king himself.
Most frightening of all, she discovers the dark secrets of her own mysterious history—and the terrible, powerful legacy she carries in her blood.
About the Author
---
Audrey Coulthurst writes YA books that tend to involve magic, horses, and kissing the wrong people. When she's not dreaming up new stories, she can usually be found painting, singing, or on the back of a horse. Audrey has a master's degree in writing from Portland State University. She lives in Santa Monica, California. She is the author of Inkmistress and Of Fire and Stars, which was named a Publishers Weekly Flying Start. Visit her online at www.audreycoulthurst.com.
Praise For…
---
"Coulthurst emphasizes self-reliance, forgiveness, and the redemptive power of love in this satisfying tale"
— Publishers Weekly

"Asra's rich emotions in the face of difficult choices in this coming-of-age saga will absorb audiences."
— Booklist

"Engag[es] teens in a mystical world of darkness and blood magic. Fans of dragons, dark magic, and romance will embrace this novel."
— School Library Journal

Praise for OF FIRE AND STARS: "A powerful and exquisite love story"
— Publishers Weekly (starred review)

Praise for OF FIRE AND STARS: "This book is bold enough to create a world that moves beyond the prejudices we are still fighting in our real world."
— Caitlyn Paxson, NPR

Praise for OF FIRE AND STARS: "A deeply romantic, bold, and nuanced fantasy. You will be captivated by Denna and Mare and their star-crossed love for each other."
— Malinda Lo, Author of Ash and Huntress

Praise for OF FIRE AND STARS: "Lovely…a worthy debut that succeeds as both an adventure and a romance."
— Booklist

Praise for OF FIRE AND STARS: "Murder, mayhem, magic, romance—and horses…a romantic fantasy that will appeal to those who appreciate character-driven novels."
— Kirkus Reviews

Praise for OF FIRE AND STARS: "I devoured Of Fire and Stars in two sittings; it's a delightful debut, full of all the things I like best in a fantasy story, including not one but two wonderful heroines. I'm looking forward to seeing what Audrey does in the future!"
— Mercedes Lackey, New York Times bestselling author of over 125 books, including the Valdemar series

Praise for OF FIRE AND STARS: "Coulthursts's debut is an absolute delight; I loved seeing these smart, fierce princesses fall in captivating, slow-burn love as they investigate political assassinations and unravel magical conspiracies."
— Corinne Duyvis, author of Otherbound and On the Edge of Gone

Praise for OF FIRE AND STARS: "Romantic, compelling, and bursting with fascinating characters, Of Fire and Stars is the fantasy novel we've all been waiting for."
— Amy Tintera, author of Ruined

Praise for OF FIRE AND STARS: "Romantic, compelling, and bursting with fascinating characters, Of Fire and Stars is the fantasy novel we've all been waiting for."
— Voice of Youth Advocates (VOYA)