The Kept Woman: A Novel (Will Trent) (Hardcover)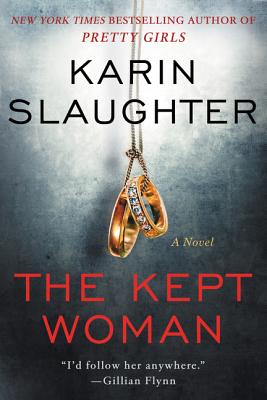 $30.79
Usually Ships in 1-5 Days
Staff Reviews
---
Angie Pulaski, who has grown up in the foster care system, appears to be heartless and without morals. She has abandoned her husband, Will Trent, for over a year this time and he has begun a relationship with Sara Linton, a medical examiner in his department at the Georgia Bureau of Investigation. However, a fellow investigator, Dale Harding has been murdered in Marcus Rippy's half-constructed night club and Angie's blood is everywhere. Marcus Rippy is a NBA superstar who has just gotten away with rape when Will could not get past Rippy's collection of lawyers and perjurers to get the case convicted. This, combined with his uncontrollable desire to find out if Angie is dead or alive, is fuel for Will to pursue this case through the many twists and turns. Unknown daughters, more rapes, spousal abuse, creepy stalking: it's got it all! Another thriller homerun for Slaughter.
— From
Bunny's Books
Description
---
The Skimm Reads calls it "a thriller that's part True Detective, part The Girl On the Train. All parts gripping."
Husbands and wives. Mothers and daughters. The past and the future.
Secrets bind them. And secrets can destroy them.
The author of Pretty Girls returns with an electrifying, emotionally complex thriller that plunges its fascinating protagonist into the darkest depths of a mystery that just might destroy him.
With the discovery of a murder at an abandoned construction site, Will Trent of the Georgia Bureau of Investigation is brought in on a case that becomes much more dangerous when the dead man is identified as an ex-cop.
Studying the body, Sara Linton—the GBI's newest medical examiner and Will's lover—realizes that the extensive blood loss didn't belong to the corpse. Sure enough, bloody footprints leading away from the scene indicate there is another victim—a woman—who has vanished . . . and who will die soon if she isn't found.
Will is already compromised, because the site belongs to the city's most popular citizen: a wealthy, powerful, and politically connected athlete protected by the world's most expensive lawyers—a man who's already gotten away with rape, despite Will's exhaustive efforts to put him away.
But the worst is yet to come. Evidence soon links Will's troubled past to the case . . . and the consequences will tear through his life with the force of a tornado, wreaking havoc for Will and everyone around him, including his colleagues, family, friends—and even the suspects he pursues.
Relentlessly suspenseful and furiously paced, peopled with conflicted, fallible characters who leap from the page, The Kept Woman is a seamless blend of twisty police procedural and ingenious psychological thriller -- a searing, unforgettable novel of love, loss, and redemption. 
Praise For…
---
"Exciting...an intense look at the nature of loss and control, and how love can taint both."

"Suspense that continually ratchets upward, a revealing look at domestic violence in all levels of society, and the continued development of a tight-knit cast of characters. This is prime Slaughter, must-read fare for thriller fans."

"A thriller that's part 'True Detective,' part 'The Girl On The Train.' All parts gripping."