Thief of Time: A Novel of Discworld (Paperback)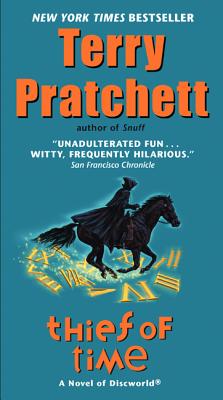 Description
---
Time itself is threatened— and it's up to the History Monks to save it in Terry Pratchett's bestselling Discworld® series
Everybody wants more time. Which is why, on Discworld, only the experts can manage it—the venerable Monks of History who store it and pump it from where it's wasted, like underwater (how much time does a codfish really need?) to places like cities, where busy denizens lament never having enough of it.
While everyone talks about slowing down, one young horologist is about to do the unthinkable. He's going to stop. Well, stop time, that is, by building the world's first truly accurate clock. Which means esteemed History Monk Lu-Tze and his apprentice Lobsang Ludd have to put on some speed to stop the timepiece before it starts. For if the Perfect Clock starts ticking, time—as we know it—will end. And then the trouble will really begin . . .
About the Author
---
TERRY PRATCHETT is the acclaimed creator of the global bestselling Discworld series, the first of which, "The Colour of Magic," was published in 1983. In all, he is the author of over fifty bestselling books. His novels have been widely adapted for stage and screen, and he is the winner of multiple prizes, including the Carnegie Medal, as well as being awarded a knighthood for services to literature. Worldwide sales of his books now stand at over 75 million, and they have been translated into thirty-seven languages.