Spider Woman's Daughter (A Leaphorn and Chee Novel #19) (Paperback)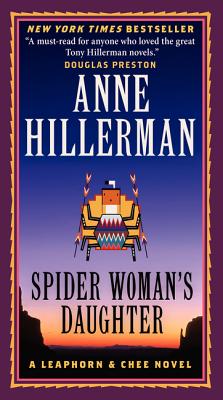 Staff Reviews
---
Let me hear you say "Hooray, Chee and Leaphorn are back". Tony's daughter Anne takes up the mantle to bring a new perspective on a classic  series. Chee's wife, Navajo Nation Police Officer Bernadette (Bernie) Manualito, is a witness to a shooting and someone she knows is seriously wounded. Her husband, Sergeant Jim Chee, is put in charge of finding the shooter. So even though Bernie is ordered to step back, since she is a witness, you know she will be in the thick of this very personal investigation. Intrigue in the world of ancient Indian art and artifacts along with the atmospheric locale of Chaco Canyon add to the rich Southwestern atmosphere of Spider Woman's Daughter. I am looking forward to the next Bernie adventure.
-Linda
— From
Linda's Latest List
Description
---
Anne Hillerman, the talented daughter of bestselling author Tony Hillerman, continues his popular Leaphorn and Chee series with Spider Woman's Daughter, a Navajo Country mystery, filled with captivating lore, startling suspense, bold new characters, vivid color, and rich Southwestern atmosphere.
Navajo Nation Police Officer Bernadette Manualito witnesses the cold-blooded shooting of someone very close to her. With the victim fighting for his life, the entire squad and the local FBI office are hell-bent on catching the gunman. Bernie, too, wants in on the investigation, despite regulations forbidding eyewitness involvement. But that doesn't mean she's going to sit idly by, especially when her husband, Sergeant Jim Chee, is in charge of finding the shooter.
Bernie and Chee discover that a cold case involving his former boss and partner, retired Inspector Joe Leaphorn, may hold the key. Digging into the old investigation, husband and wife find themselves inching closer to the truth...and closer to a killer determined to prevent justice from taking its course.
Praise For…
---
Spider Woman's Daughter is an intricately plotted, suspenseful, colorful, and unforgettable journey. Readers will fall in love with Bernie Manuelito and look forward to Anne Hillerman's next effort in what should be a long, enjoyable, successful series. Her depiction of the Navajo Nation is spot on. I loved this book.

"Chip off the literary block—there are a lot of things Tony taught is daughter, Anne, and one of them was how to tell a good story. Spider Woman's Daughter is a proud addition to the legacy, capturing the beauty and breath of the Southwest as only a Hillerman can."

A daughter takes on her famous father's legacy in resuming a series focused on Navajo culture…maintaining the integrity…throughout.

"[H]eart-stopping, action-packed...VERDICT Fans of Southwestern mysteries will cheer this return of Leaphorn and Chee."

"Difficult to put down...If you love mysteries, this book is for you."