The Neon Lights Are Veins (Paperback)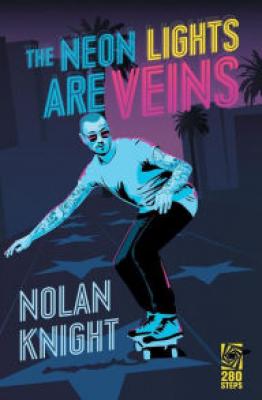 Description
---
The Neon Lights Are Veins is a cocktail mix of Hubert Selby Jr., Jay McInerney and Josh Stallings, with "L.A. Woman" playing in the background.
Skewing the line between literary and noir, The Neon Lights Are Veins is a peephole into the underbelly of modern Los Angeles; a place where hometown hard-lucks and wayward hustlers scrounge for hope in gutters. Top of the heap: Alvi Drake, an aged pro skateboarder whose lone thrill nowadays is a pill-fueled escape from the terror of past ghosts.
Once news hits of the disappearance of an old flame, Alvi's plummet smashes through rock bottom, sending him on a quest to find her. With help from his fellow damned (Mongo, Chester and Faye), he spirals through neon wilderness, stumbling upon an underground of sex and drug trafficking, the depths of which street life has yet to take him.
Blinded by love and dismissing the reality of his actions, this hunt for another lost angel could be the biggest mistake in his track ridden life.
About the Author
---
A native of Los Angeles' South Bay, Nolan Knight's short fiction has been featured in various publications including Thuglit, Needle, Plots with Guns, Beat to a Pulp and Shotgun Honey. He was a staff writer for Los Angeles' Biggest Music Publication, the L.A. Record, from 2007 to 2010, and holds a degree in Creative Writing from Cal State University Long Beach. He currently resides in Long Beach with his wife, son and daughter.