The Forbidden Wish (Paperback)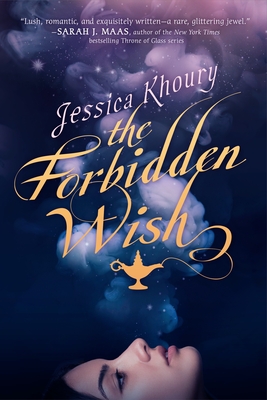 Staff Reviews
---
"The Forbidden Wish is an Aladdin retelling, but in this version it is the Jinni using Aladdin, not the other way around. She has waited five hundred years to escape the desert she was abandoned in and losing this opportunity isn't an option. It becomes harder and harder for her to lie to him though as she falls in love with him, a forbidden thing since the Jinni and humans have been at war for centuries and if anyone in the palace discovers her true nature both she and Aladdin would lose their heads. Filled with romance, magic, and some pretty great battle scenes, The Forbidden Wish is a well-crafted tale that captures your heart as you root for these characters all the way to the finish line."
Description
---
"Lush, romantic, and exquisitely written . . . a rare, glittering jewel of a novel."--
Sarah J. Maas
, author of the
New York Times
bestselling
Throne of Glass
series
"This is Aladdin like you've never imagined."--
Renee Ahdieh
, author of
The Wrath and the Dawn
She is the most powerful Jinni of all. He is a boy from the streets. Their love will shake the world. . . .
When Aladdin discovers Zahra's jinni lamp, Zahra is thrust back into a world she hasn't seen in hundreds of years--a world where magic is forbidden and Zahra's very existence is illegal. She must disguise herself to stay alive, using ancient shape-shifting magic, until her new master has selected his three wishes. 


But when the King of the Jinn offers Zahra a chance to be free of her lamp forever, she seizes the opportunity--only to discover she is falling in love with Aladdin. When saving herself means betraying him, Zahra must decide once and for all: is winning her freedom worth losing her heart?
As time unravels and her enemies close in, Zahra finds herself suspended between danger and desire in this dazzling retelling of the Aladdin story from acclaimed author Jessica Khoury
.
From the Hardcover edition.
About the Author
---
Jessica Khoury holds a BA in English from Toccoa Falls College. When not writing, she spends her time on the soccer pitch or traveling the world. She lives in Easley, South Carolina, with her husband and two dogs. Jessica is also the author of Origin, Vitro, and Kalahari. Follow her on Twitter @jkbibliophile. For more info, visit www.jessicakhoury.com. From the Hardcover edition.