The Breakdown (Hardcover)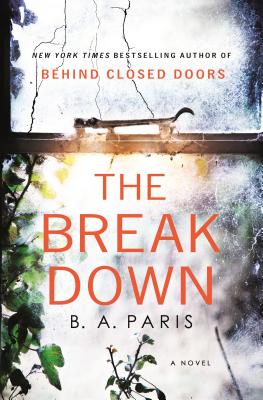 Staff Reviews
---
In keeping with her first novel, Behind Closed Doors, Paris delves into the complexity of marriage and the possibility that what seems like bliss can in reality be sheer Hell. Her ability to take an improbable situation and convert it into a totally plausible actuality is uncanny and totally entertaining. Cass is feeling a bit forgetful lately but her devoted husband Matthew is perfectly supportive and reassuring that it is only stress from teaching all year and needing a well-deserved break. Beginning with a fateful shortcut home on a stormy night that ends in witnessing a murder, to what is seemingly the onset of early dementia by the end of the summer, Cass is struggling to keep her sanity. Her empathetic husband and best friend Rachel are assisting Cass as only loved ones can; however, love is a very complicated emotion and at times can be perilous. This is one of those times… a terrifyingly suspenseful read.
— From
Bunny's Books
July 2017 Indie Next List
---
"After reading Behind Closed Doors I wasn't sure B.A. Paris could match the suspense in another book. I was wrong! In The Breakdown, Cass passes a car on the side of the roadway during torrential rain; she sees a woman inside but not clearly enough to recognize her. The next day, she learns the woman has been murdered. The events throw Cass into deep despair and paranoia, as she begins to suspect that someone is stalking her. B.A. Paris is clearly becoming a master of suspense. Don't miss The Breakdown!"
— Cheryl Kravetz (E), Murder on the Beach, Delray Beach, FL
Description
---
Named One of the Most Anticipated Thriller Novels Of 2017 by Bustle
THE NEW CHILLING, PROPULSIVE NOVEL FROM THE AUTHOR OF THE INSTANT NEW YORK TIMES AND USA TODAY BESTSELLING BEHIND CLOSED DOORS.
If you can't trust yourself, who can you trust?
Cass is having a hard time since the night she saw the car in the woods, on the winding rural road, in the middle of a downpour, with the woman sitting inside--the woman who was killed. She's been trying to put the crime out of her mind; what could she have done, really? It's a dangerous road to be on in the middle of a storm. Her husband would be furious if he knew she'd broken her promise not to take that shortcut home. And she probably would only have been hurt herself if she'd stopped.
But since then, she's been forgetting every little thing: where she left the car, if she took her pills, the alarm code, why she ordered a pram when she doesn't have a baby.
The only thing she can't forget is that woman, the woman she might have saved, and the terrible nagging guilt.
Or the silent calls she's receiving, or the feeling that someone's watching her...
You won't be able to put down B. A. Paris's The Breakdown, the next chilling, propulsive novel from the New York Times and USA Today bestselling author of Behind Closed Doors.
About the Author
---
B.A. PARIS is the New York Times, USA Today, and internationally bestselling author of Behind Closed Doors. She grew up in England but has spent most of her adult life in France. She has worked both in finance and as a teacher and has five daughters. The Breakdown is her second novel.