The Star-Touched Queen (Hardcover)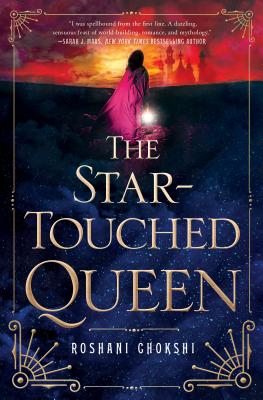 $18.99
Usually Ships in 1-5 Days
Staff Reviews
---
The Star-Touched Queen by Roshani Chokshi
"Roshani Chokshi writes in poetry, building a world that envelops you in its beauty. She paints breathtaking details and breathes life into a band of characters that guide you down a mystic world of love, betrayal, life, death, happiness, and despair, but above all, hope. It's a hope that we can overcome our mistakes and misunderstandings to one day find happiness. Our hardships and trials do not define us but open doors to paths that can simply make us stronger and while we cannot rewrite the past, we can grab the threads of our fate and weave the future we want.
I highly recommend you join Maya, the princess born under cursed stars and shunned by all, on her journey of self-discovery as she becomes the queen of a powerful kingdom and rewrites her stars. I wanted to highlight all the dialogue between Maya and Kamala as quotes and it was one of the most unique and special relationship between characters I've read in a really long time. This book is a must read." 
— Constance
Description
---
An Instant New York Times Bestseller
Fate and fortune. Power and passion. What does it take to be the queen of a kingdom when you're only seventeen?
Maya is cursed. With a horoscope that promises a marriage of Death and Destruction, she has earned only the scorn and fear of her father's kingdom. Content to follow more scholarly pursuits, her whole world is torn apart when her father, the Raja, arranges a wedding of political convenience to quell outside rebellions. Soon Maya becomes the queen of Akaran and wife of Amar. Neither roles are what she expected: As Akaran's queen, she finds her voice and power. As Amar's wife, she finds something else entirely: Compassion. Protection. Desire...
But Akaran has its own secrets -- thousands of locked doors, gardens of glass, and a tree that bears memories instead of fruit. Soon, Maya suspects her life is in danger. Yet who, besides her husband, can she trust? With the fate of the human and Otherworldly realms hanging in the balance, Maya must unravel an ancient mystery that spans reincarnated lives to save those she loves the most. . .including herself.
A lush and vivid story that is steeped in Indian folklore and mythology. The Star-touched Queen is a novel that no reader will soon forget.
About the Author
---
Roshani Chokshi is the New York Times bestselling author of The Star-Touched Queen. Her work has appeared in Strange Horizons, Shimmer, and Book Smugglers. Her short story, "The Star Maiden," was longlisted for the British Fantasy Science Award.
Praise For…
---
"The Star Touched Queen enthralls with mystery and romance. Chokshi's storytelling glimmers like magic on every page­­a novel meant to be savored." ­­Cindy Pon, bestselling author of Serpentine and Silver Phoenix