Whispers from the Abyss 2 : The Horrors That Were and Shall Be (Paperback)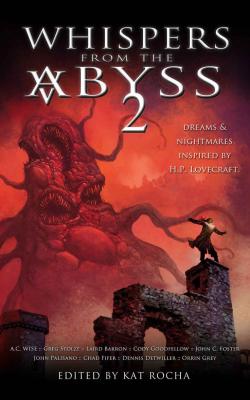 Description
---
The WHISPERS FROM THE ABYSS anthology series returns with more H.P. Lovecraft-inspired fiction created for readers on the go. Contained within are 25 spine-chilling tales by Laird Barron (The Imago Sequence), Cody Goodfellow (Spore), Greg Stolze (Delta Green), A.C. Wise (Future Lovecraft), John Palisano (Dust of the Dead), John C. Foster (Dead Men), Orrin Grey (Painted Monsters & Other Strange Beasts), Dennis Detwiller (Delta Green), Chad Fifer (The H.P. Lovecraft Literary Podcast), Konstantine Paradise (Coven), and many more. Now come, begin your slow descent into madness…
Praise For…
---
Praise for Whispers from the Abyss Vol. 1:

"…the authors within its pages are no slavish Elvis tribute acts. Instead, they are his mutant bastard offspring, whose mission is to misbehave dreadfully and have a wonderful time doing so. These Children of the Night run amok, gleefully trashing the very idea of florid prose and pseudo-intellectual claptrap of which the Great Old One himself was sometimes guilty. Instead, they tear down the walls, splinter the timbers, rip out the wiring and delight in sending to the bottom of the ocean the HMS Lovecraft – and all who sail in her." -Amazing Stories Magazine

"…many fine moments!" -Black Static Magazine

"…a solid anthology front to back…". -Innsmouth Free Press

"…the horror that follows are the most vivid and memorable from this accomplished collection." -SFFWorld.com

"A great, engrossing and varied anthology of Lovecraftian fiction…" -Dark Discoveries Magazine

"All about that moment I love, the moment where something approaches. The moment where you close your eyes and hope it goes away. It will. But there'll be another story right behind it. And another. And another." -Alasdair Stuart, host of the PSEUDOPOD podcast.