Hex (Hardcover)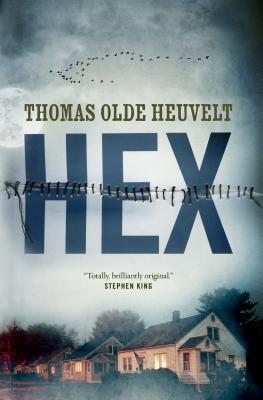 $25.99
Usually Ships in 1-5 Days
Staff Reviews
---
HEX by Thomas Olde Heuvelt
The town-in-a-fishbowl trope swirls with fresh blood, in the grizzly ghost story of Katherine van Wyler, who was executed for witchcraft in the 1600s. With her eyes and lips sewn shut save for one corner of her mouth, Katherine's ghost wanders Black Springs in a playback loop. Anyone who hears her whisper is driven to kill. The residents are trapped by Katherine's curse, which compels those who leave to commit suicide. To protect their secret shame from the outside world, the residents have set up their own surveillance state, with a puritanical code as ruthless as the witch trials. When a group of local teens try to leak the story, and one of them tortures the witch after years of physical abuse, they discover that the witch is the lesser of two evils. The greater evil wears the mask of "the public good." All it takes is a whisper to burn down the world. –R.J. Crowther Jr.
— From
Rob Crowther
The residents of Black Spring can never leave their town because of Katherine Von Wyler, a 300 year old witch who has her mouth and eyes sewed shut. Katherine walks silently through the town's streets and appears in residents' homes at random times, including when they eat dinner, watch television or sleep. The town's populace both fear and respect her because of her power — those who leave town slowly contemplate suicide and eventually take their own life. However, the witch isn't the only threat in Black Spring. Like all good horror/thriller stories, the horror of Hex lies in its ability to expose the extremes of individual and group behavior. Even kind and smart people are susceptible to groupthink and bloodlust. Hex feels very fresh and original, with truly shocking and unsettling moments that will stay with you well beyond the last page.
— From
Jared Martin
Description
---
"This is totally, brilliantly original." --Stephen King
"HEX is creepy and gripping and original, sure to be one of the top horror novels of 2016." --George R.R. Martin
The English language debut of the bestselling Dutch novel, Hex, from Thomas Olde Heuvelt--a Hugo and World Fantasy award nominated talent to watch
Whoever is born here, is doomed to stay 'til death. Whoever settles, never leaves.
Welcome to Black Spring, the seemingly picturesque Hudson Valley town haunted by the Black Rock Witch, a seventeenth century woman whose eyes and mouth are sewn shut. Muzzled, she walks the streets and enters homes at will. She stands next to children's bed for nights on end. Everybody knows that her eyes may never be opened or the consequences will be too terrible to bear.
The elders of Black Spring have virtually quarantined the town by using high-tech surveillance to prevent their curse from spreading. Frustrated with being kept in lockdown, the town's teenagers decide to break their strict regulations and go viral with the haunting. But, in so doing, they send the town spiraling into dark, medieval practices of the distant past.
This chilling novel heralds the arrival of an exciting new voice in mainstream horror and dark fantasy.
About the Author
---
THOMAS OLDE HEUVELT is a Dutch author of several novels, including HEX, and many stories of the fantastic. He has been called "One of Europe's foremost talents in fantastic literature" by BBC Radio. Olde Heuvelt has been nominated for the Hugo and World Fantasy awards for his short fiction and is a multiple winner of the Paul Harland Prijs for best Dutch work of the fantastic.