Grayling's Song (Hardcover)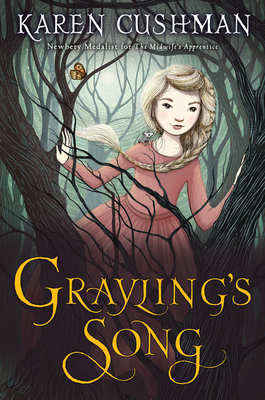 $16.99
Usually Ships in 1-5 Days
Staff Reviews
---
Kelly's Kid Pick for June! Get 20% off this book during the month of June!
In this medieval world where magic is everywhere, Grayling and her mother are healers, using magical herbs and potions to help those in their town in need. But someone--or something--is hunting down all those who use magic, stealing their grimoires, and cursing them to slowly transform into tree. It is up to Grayling to find out how to save not only her mother, but all magic users. Bursting with rich language, themes of independence & persistence, and with magic reminiscent of classical mythology, this is a short but powerful book. Perfect for young readers who enjoy soft, subtle magic, strong characters, and journeys in the wild. 
— Kelly
Description
---
"Like all Karen Cushman's gorgeous novels, Grayling's Song delves into the past to let us know what we must ask of our future." --Lena Dunham

It's time for Grayling to be a hero. Her mother, a "wise woman"--a sort of witch--has been turned into a tree by evil forces. Tangles and toadstools Lacking confidence after years of being called "Feeble Wits" by her mother, Grayling heads off dubiously into the wilds in search of help, where she finds a weather witch, an aromatic enchantress, a cheese soothsayer, a slyly foolish apprentice, and a shape-shifting mouse named Pook A fast-paced and funny coming-of-age odyssey from a Newbery medalist.