Cursed (Mass Market Paperbound)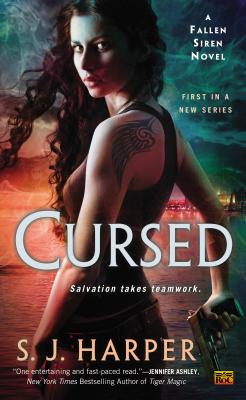 Staff Reviews
---
Paranormal Romance
Part of Siren Emma Monroe's dedication to her work with missing-persons cases for the FBI's San Diego unit is driven by penance – she has spent centuries trying to accumulate enough good acts for the goddess Demeter, who holds Emma and her fellow Sirens significantly responsible for the whole Persephone / Hades relationship disaster, to forgive her. In the meantime, she has a strict no romantic commitments policy, as nothing triggers Demeter's sense of vengeance like a potential love. When sexy lycanthrope Special Agent Zack Armstrong is transferred to America's Finest City, can he and Emma reignite their brief affair without distracting from their casework or drawing Demeter's wrath? A great sexy series starter for Urban Fantasy fans!
– Maryelizabeth
— From
Maryelizabeth's Past Reviews
Description
---
Meet FBI Agents Emma Monroe and Zack Armstrong.She's cursed. He's damned. Together, they make one hell of a team.
Emma Monroe is a Siren, cursed by the gods and bound to earth to atone for an ancient failure. She's had many names and many lives, but only one mission: redemption. Now that she works missing persons cases for the FBI, it could be just a rescue away. Unless her new partner leads her astray.
Special Agent Zack Armstrong just transferred into the San Diego Field Office. He's a werewolf, doing his best to beat back the demons from his dark and dangerous past. As a former Black Ops sniper, he's taken enough lives. Now he's doing penance by saving them.
Emma and Zack's very first case draws them deep into the realm of the paranormal, and forces them to use their own supernatural abilities. But that leaves each of them vulnerable, and there are lines partners should not cross. As secrets are revealed and more women go missing, one thing becomes clear: as they race to save the victims, Emma and Zack risk losing themselves.
FIRST IN A NEW SERIES.
About the Author
---
S. J. Harper is the pseudonym for authors Jeanne C. Stein and Samantha Sommersby.