Blue Remembered Earth (Mass Market Paperbound)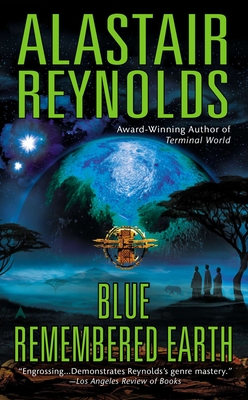 $8.99
Usually Ships in 1-5 Days
Description
---
One hundred and fifty years from now, Africa has become the world's dominant technological and economic power. Crime, war, disease and poverty have been practically eliminated. The Moon and Mars are settled, and colonies stretch all the way out to the edge of the solar system. And Ocular, the largest scientific instrument in history, is about to make an epochal discovery...
Geoffrey Akinya wants only one thing: to be left in peace, so that he can continue his long-running studies into the elephants of the Amboseli basin. But Geoffrey's family, which controls the vast Akinya business empire, has other plans for him. After the death of his grandmother Eunice--the erstwhile space explorer and entrepreneur--something awkward has come to light on the Moon, so Geoffrey is dispatched there to ensure the family name remains untarnished.
But the secrets Eunice died with are about to be revealed--secrets that could change everything...or tear this near utopia apart.
About the Author
---
Alastair Reynolds was born in Wales in 1966. He has a PhD in astronomy. From 1991 to 2007, he lived in the Netherlands, where he was employed by the European Space Agency as an astrophysicist. He is now a full-time writer and lives in South Wales with his wife, Josette.
Praise For…
---
"Engrossing…Blue Remembered Earth is, ultimately, a collection of conflicting 'isms': individualism, collectivism, romanticism, capitalism, expansionism, escapism. The ability to integrate such competing notions into a stable narrative speaks to the ideological power of the best SF; it also demonstrates Reynolds's genre mastery….More importantly, the projected series—and the work Reynolds has yet to produce—will tell us much about the state of SF in the early twenty-first century."—Los Angeles Review of Books
 
"Reynolds both develops a richly detailed portrait of a resurgent, postapocalyptic Earth society and economy, and leaves himself plenty of room to expand his narrative space exponentially…If Reynolds can keep this up—and there's enough planted here for future volumes to already suggest that he can—he might have one of the most enjoyable series of the still-young decade."—Locus
 
"As my number one SF writer of the '00s, any novel or story by Alastair Reynolds is a must...As speculation about a mid 2100s Earth and nearby solar system, Blue Remembered Earth is simply unrivaled in recent SF and if only for that and the novel is a top 25 of mine…A compulsive read that you do not want to put down…If you want to understand why SF at its best is still the most interesting form of literature today, Blue Remembered Earth [is the place] to go."—Fantasy Book Critic