Yesterday (Hardcover)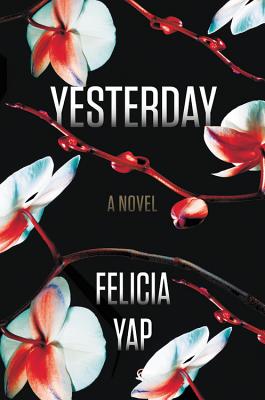 Staff Reviews
---
An incredible debut from an intriguing author who has been a cell biologist, theater critic, catwalk model, among her most interesting adventures, and now delights us in a science fiction mystery thriller that is as diverse as she is. It is modern day but society is separated by a class system from birth, born mono or duo, meaning that one has the memory aptitude of one (mono) or two (duo) days. The remainder of one's life is stored on tablets, thanks to Steve Jobs' miraculous inventions. Before tablets, the remainders were penned in diaries kept on file for the authorities. Claire and Mark, an accomplished author, are in a rare mixed marriage as he makes a stab into England's political arena promoting tolerance and equality. However, Mark's mistress is found dead in the River Cam and the investigator, who is a secreted mono posing as a duo, has only one day to solve the crime. The clock is ticking at full volume on this phenomenal thriller.
— From
Bunny's Books
Description
---
How do you solve a murder when you can only remember yesterday?
Imagine a world in which classes are divided not by wealth or religion but by how much each group can remember. Monos, the majority, have only one day's worth of memory; elite Duos have two. In this stratified society, where Monos are excluded from holding high office and demanding jobs, Claire and Mark are a rare mixed marriage. Clare is a conscientious Mono housewife, Mark a novelist-turned-politician Duo on the rise. They are a shining example of a new vision of tolerance and equality-until...
A beautiful woman is found dead, her body dumped in England's River Cam. The woman is Mark's mistress, and he is the prime suspect in her murder. The detective investigating the case has secrets of his own. So did the victim. And when both the investigator's and the suspect's memories are constantly erased--how can anyone learn the truth?
Told from four different perspectives, that of Mark, Claire, the detective on the case, and the victim--Felicia Yap's staggeringly inventive debut leads us on a race against an ever-resetting clock to find the killer. With the science-fiction world-building of Philip K. Dick and the twisted ingenuity of Memento, Yesterday is a thriller you'll never forget.
About the Author
---
Felicia Yap grew up in Kuala Lumpur. She read biochemistry at Imperial College London, followed by a doctorate in history at Cambridge University. She has written for The Economist and the Business Times. She has also been a radioactive-cell biologist, a war historian, a Cambridge lecturer, a technology journalist, a theater critic, a flea-market trader, and a catwalk model. Felicia lives in London and is a recent graduate of the Faber Academy's novel-writing program.