The Rook (Paperback)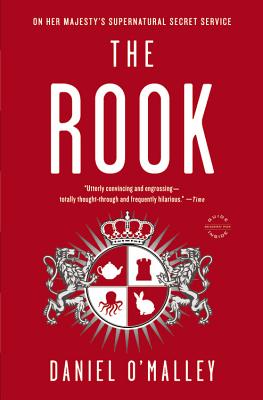 Staff Reviews
---
Myfanwy (rhymes with Tiffany) Thomas wakes up in a London park with no memory of who she is. Never mind that she is surrounded by bodies clothed in lab coats and wearing rubber gloves. Luckily, there is a note in her coat pocket with the salutation "Dear You, The body you are wearing used to be mine" and signed "Love, Me". She's given a red pill, blue pill choice and decides to go down the rabbit hole. Following the instructions left by her former self, she reports to work with the idea of finding her true identity and discovering who wants her out of the picture. But that job! Myfanwy is an executive, a Rook, in a super-secret organization, the Checquy Group, that keeps the world safe from supernatural threats. The Checquy Group has sort of an X-men feel, with kids attending a school to help them develop their powers, and a hierarchy of agents doing fieldwork, fighting various supernatural forces. The former Myfanwy was a shy, awkward girl, unsure of her supernatural powers and happy to stay in her office, organizing the Group. The new Myfanwy is still unsure, but is not satisfied to hide in her office, waiting for her enemies to come back and finish her off. Using the copious notes and files left by her former self, her confidence grows and she begins the transformation from shy office girl to kick-ass agent. With a backstory told in the unique form of letters and notes, totally unexpected creepy yucky monsters, and surprising plot twists, The Rook makes for a great supernatural spy thriller. Marketed as "On Her Majesty's Supernatural Secret Service", Myfanwy is a force to be reckoned with ... and there's room for a sequel.
--LNT
— From
Linda's Latest List
The new Thomas Perry book finds our heroine, Jane Whitefield, a Seneca woman who helps people disappear, caught in a world of trouble. Poison Flower begins with Jane helping wrongly convicted prisoner James Shelby escape from custody at the criminal court building in downtown Los Angeles. He has been imprisoned for murdering his runaway wife. He does escape, but crooks posing as cops who are working for the real killer are in pursuit. Jane and James are on the run, and are soon joined by a woman hiding from an abusive ex-husband. I won't give away more of the plot except to say it involves kidnapping, torture, cross-country pursuits, and revenge. Unrelenting suspense, a skillful and passionate warrior woman, and a nerve-racking climax makes Poison Flower a must read.
--LNT
— From
Linda's Latest List
Description
---
Myfanwy Thomas awakes in a London park surrounded by dead bodies. With her memory gone, her only hope of survival is to trust the instructions left in her pocket by her former self. She quickly learns that she is a Rook, a high-level operative in a secret agency that protects the world from supernatural threats. But there is a mole inside the organization and this person wants her dead. As Myfanwy battles to save herself, she encounters a person with four bodies, a woman who can enter her dreams, children transformed into deadly fighters, and an unimaginably vast conspiracy. Suspenseful and hilarious, THE ROOK is an outrageously inventive debut for readers who like their espionage with a dollop of purple slime.
About the Author
---
Dan O'Malley graduated from Michigan State University and earned a Master's Degree in medieval history from Ohio State University. He then returned to his childhood home, Australia. He now works for the Australian Transport Safety Bureau, writing press releases for government investigations of plane crashes and runaway boats.