An Army of One: A John Rossett Novel (Hardcover)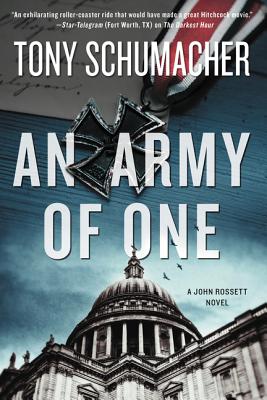 Staff Reviews
---
Set in German-occupied Britain, where the Nazis are struggling to maintain civilian order, contain the Resistance, and combat the corruption and dissent among their own German officers. Liverpool is the epitome of discontent and presents the perfect circumstances for criminals to flourish. A perfect habitat for Captain Karl Bauer, the "Bear," who is a professional killer funded and protected by the corrupt Nazi regime in Liverpool. He was just hired to kill four people involved in a plot to confiscate a huge amount of missing gold. John Rossett, the highly decorated "British Lion," wants nothing more than to transcend the disgusting devastation the war has inflicted on every human being, and return to being the respectable policeman he was before this world-wide conflict. The US Consul, the British resistance, and the Nazi colluders all vie for the gold as Rossett makes it his personal goal to capture the merciless "Bear." A great historical espionage novel.
— From
Bunny's Books
Description
---
In this enthralling historical thriller set in post--World War II London, detective John Henry Rossett must stop a murderous ex--SS officer as the German occupation of England begins to falter.
Working with the SS in German-occupied Britain was never easy for John Rossett. Though he's returned to his former job, the police inspector has been tainted by his Nazi associations. His suspicious colleagues see him as a collaborator, and he's unwelcome at his old haunts. But the Germans aren't done with Rossett. When decorated SS Captain Karl Bauer kills the US consul in Liverpool, then goes on the run, Generalmajor Neumann orders Rossett to find the missing killer--a swift, cunning, and ruthless man known as "the Bear."
While the Nazis still maintain control over London, Liverpool is run by criminal networks and the British resistance. A wasteland of burned-out buildings and mountains of rubble, the northern port city is the perfect place for a clever warrior like Bauer to hide. Neumann and Rossett's search also turns up damning new information: Bauer's superior, Major Theo Dannecker, has been colluding with the US consul and the British resistance to smuggle large amounts of gold out of the country. As for the Bear, the fervent SS officer has repudiated his allegiance to the crumbling Reich and is now focused on destroying Rossett, the famed "British Lion," one innocent victim at a time.
To prevent more deaths and protect Britain, Rossett must trap the Bear and uncover a diabolical conspiracy that has brought Nazi officers and the British resistance together. Vivid and energetic, full of Schumacher's trademark action and rich, conflicted characters, An Army of One reveals how the strength of one man can turn the tide in an uncertain world.