Dragon Teeth (Mass Market Paperbound)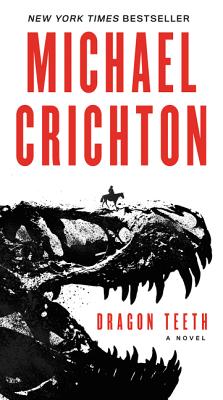 Staff Reviews
---
This recently discovered novel is based on the rivalry, known as the Bone Wars, between real-life paleontologists Edwin Cope and Otheniel Marsh and takes place in the 1876's Wild West. Both are heading expeditions to the western territories, and William Johnson, a Yale student of privilege, decides to tag along with Marsh's group after placing a bet with a rival student. The secretive and paranoid Marsh decides that William is a spy for Cope, and sneaks off, abandoning William in wild and wooly Cheyenne, Wyoming. William ends up joining Cope's expedition. They make an astonishing discovery, a huge dinosaur skeleton and one enormous tooth. Rivalries are heating up as William attempts to hold on to the find (especially the giant tooth) while fending off the archeologist adversaries, Indians, thieves, and a famous Western character or two. William, once a rich and spoiled student, must grow up fast if he wants to stay alive and bring the bones home for scientific study. As usual, Michael Crichton did extensive research, turning Dragon Teeth into a fast-paced action, science, and history thriller any fan of his previous books (and movies, tv shows, etc.) will thoroughly enjoy. We are told that more manuscripts will be turned into novels, making Michael Crichton a best-selling author almost 10 years after his death.
— Linda
Description
---
Not since Jurassic Park has digging up the past been so dangerous
The legendary #1 New York Times bestselling author of Jurassic Park returns to the world of paleontology in this recently discovered novel. . . .
The year is 1876. Warring Indian tribes still populate America's western territories, even as lawless gold-rush towns begin to mark the landscape, and two monomaniacal paleontologists pillage the Wild West, hunting for dinosaur fossils while surveilling, deceiving, and sabotaging each other.
Into this treacherous territory plunges William Johnson, a student who has joined world-renowned paleontologist Othniel Charles Marsh on his latest expedition. But when Marsh becomes convinced that William is spying for his nemesis, Edwin Drinker Cope, he abandons him in Cheyenne, Wyoming, a locus of crime and vice.
William joins forces with Cope and soon stumbles upon a discovery of historic proportions. With this extraordinary treasure, however, comes exceptional danger, and Johnson's newfound resilience will be sorely tested...
"Crichton delivers."
--USA Today