Seven Black Diamonds (Paperback)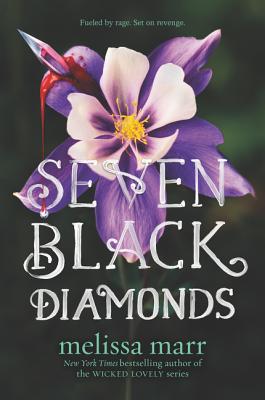 Staff Reviews
---
"Lilywhite Abernathy is crime royalty. Her favorite accessories are weapons and she's more comfortable ordering around mobsters than talking to kids her own age. But Lily has secrets that no one can ever know. She is half fae in a world where humanity has outlawed her kind. If anyone ever found out she'd be killed or locked away in a hole where no one could find her. 
In the land of the fae the queen has been waging a secret war on humanity since they killed her daughter. Her secret warriors kill on command, but what will happen when they finally meet Lilywhite and she wants nothing to do with them no matter how charming and tempting they may be. This book is full of secrets, lies, manipulation, and a fight to make things right (Way easier said than done right?).  It's a fun read with an interesting new take on a world filled with fae and leaves you excited and curious about what lies ahead for the world and this unexpected group of protagonists." 
Description
---
Melissa Marr's return to faery is now in paperback The combination of ethereal fae powers, tumultuous romance, and a bloodthirsty faery queen will have longtime fans and new readers alike at the edge of their seats.
Lilywhite Abernathy is a criminal--she's half human, half fae, and since the time before she was born her very blood has been illegal. A war has been raging between humans and faeries and the Queen of Blood and Rage, ruler of the fae courts, wants to avenge the tragic death of her heir due to the actions of reckless humans.
Lily's father has always shielded her from the truth, but when she's sent to the prestigious St. Columba's school, she's delivered straight into the arms of a fae sleeper cell--the Black Diamonds. The Diamonds are planted in the human world as the sons and daughters of the most influential families, and tasked with destroying it from within. Against her will, Lilywhite's been chosen to join them ... and even the romantic attention of the fae rock singer Creed Morrison isn't enough to keep Lily from wanting to run back to the familiar world she knows.
Melissa Marr's newest series explores the precarious space between two worlds--and the people who must thrive there.